In recent years, indoor and outdoor camera security systems have become an integral part of many homes in Western countries. For example, over 60% of Americans use camera-based security systems to remotely monitor what is happening on the premises to protect their loved ones and their property. The days when video surveillance systems were a complicated solution are long gone and today there are a lot of devices on the market which can be installed by your own hands (DIY solutions) without any experience in installing camera security systems. What's more, a modern camera is an advanced device capable of capturing and recording video and transmitting real-time video data directly to your mobile device working as an extra pair of eyes. In addition, modern cameras can detect moving objects and send you a notification when something has gone wrong. Finally, there are doorbells that will reveal who your uninvited guests are before you open the doors. So, the security system in your home is something that can be created by your own hands without the help of professional installers. And we are here to tell you about Conico security cameras, inexpensive and feature-rich devices that are suitable for those who do not have a huge budget.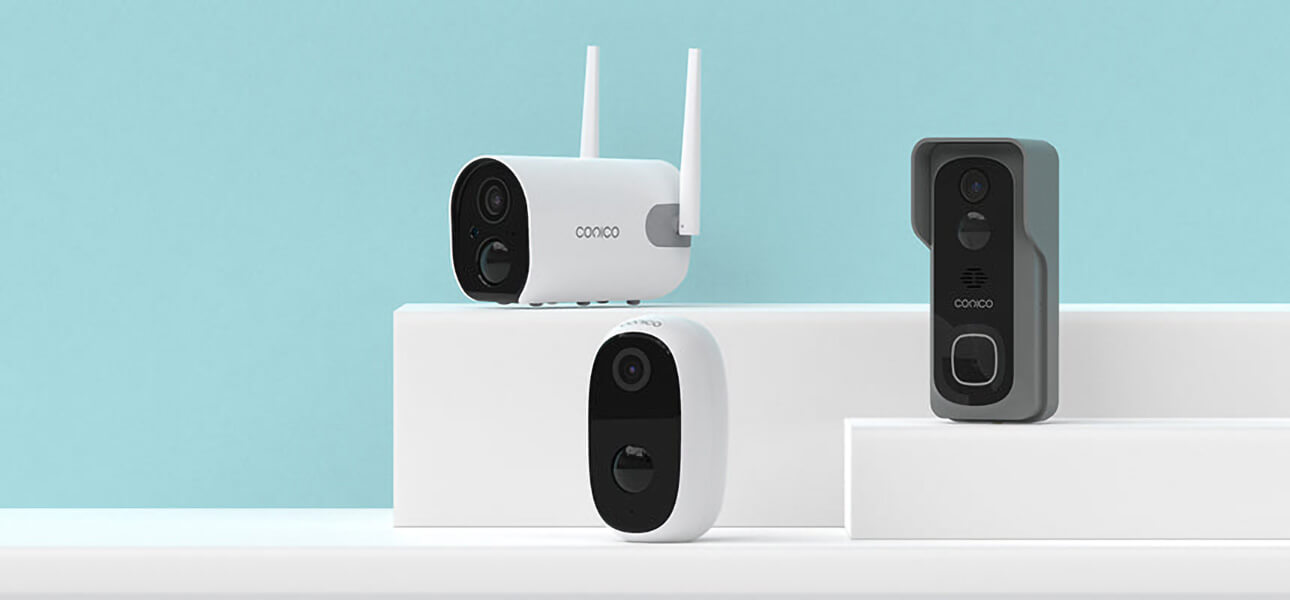 Why Should You Install a Home Conico Outdoor Security Camera System?
The main purpose of installing a camera security system for home use is to ensure the safety of your loved ones and your property. This solution will prevent illegal activity from occurring, will alert you to intruders' intentions to enter your property, and will help with evidence collection in the event of a case being taken to court. Even if you – thankfully – haven't had to experience the trauma of a burglary at your home, investing in a camera security system for your home is a hot topic today. And if you don't have a large budget, US-based company Conico offers affordable and reliable devices that just about anyone can afford.
Conico offers several models of surveillance cameras that can be installed both inside and outside your home to serve as a preventative measure for illegal activity and a way to witness illegal activity and collect evidence in real-time. CCTV cameras (read a review before buying) are the eyes of your home security system and their use is a must. It can have night vision, motion detection, the ability to recognize objects and faces, a built-in spotlight to illuminate the area if motion is detected, and much more. So, let's take a look at the benefits of installing an inexpensive video surveillance camera from Conico:
A preventative measure. By installing a Conico camera security system, you have a high probability of preventing potential intruders from entering your premises, as burglars tend to avoid secured areas.
Protecting your property and building up your evidence base. For example, Conico cameras pointed at your car parked outside your home can detect an attempted theft and help identify the person who damaged it.
Remote monitoring. A state-of-the-art Conico wireless security camera not only records video footage to storage but also transmits real-time data directly to your desktop or mobile device (e.g., iPhone, iPad or Android smartphone). With security cameras, you can see everything happening on your property hundreds of miles away from your home.
Assistance in solving crimes and unlawful acts against your property. Even if you fail to respond in time to a notification sent to you by a Conico camera (read a review before purchasing), you will have video evidence captured by the device (video recording). Thanks to security systems, the streets are safer for everyone, which promotes greater justice.
Lower deductibles. When your insurance company calculates the monthly deductibles, they take many factors into account. A camera security system reduces the risk of intrusion into your home as well as the risk of failure to disclose a crime that has been committed. By investing in a Conico camera security system, you will significantly reduce the deductibles.
What makes modern camera systems such advantageous solutions is that they are easy to install, configure and maintain. Today you no longer need to ask for help installing cameras for surveillance systems, as most of them are DIY devices (read a review). Also, Conico cams are wireless units so tasks such as installing camera cables are no longer an issue today. You might need a professional installer in case you have a large house with a complicated structure. Another important advantage of a security camera system is that it adds value to your home, which is especially important if you are planning to sell your property.
Features of Conico Outdoor Solutions – Home Camera
Based in the USA, Conico is a high-tech company specializing in intelligent security systems for indoor and outdoor use. Following industry trends, the company offers multi-functional devices at affordable prices. Today, there are many security cameras on the market with a rich array of features. However, most products of different brands are sold at a rather high price and hence not everyone can afford such an expensive purchase. Affordable price without compromising on quality and functionality is the motto at Conico. Here are a few important features and advantages of Conico products:
High-quality, high-resolution video. Most of the company's products contain a sensor capable of capturing HD video at 1920 x 1080 or higher resolution, allowing even the smallest details to be seen. In addition, the Conico catalogue includes devices with an even more advanced sensor (read a review).
A wide viewing angle of up to 360 degrees. Every Conico camera can also see over long distances, allowing you to capture even small objects far away from the lens.
Motion and noise detection technology. Many Conico camera models are equipped with intelligent technology that can detect objects and faces. To avoid false alarms, the motion detection sensitivity can be set in the camera control app.
Easily manage your entire security system via a mobile app. Conico cameras come with a native app that is compatible with all modern iOS and Android smartphones and tablets. By installing the app, you can view live video and share it with trusted people, receive alerts on emergency situations, transmit audio and voice to your devices, and much more. Thanks to the app, you will always be aware of everything that is happening at the guarded facility.
Built-in storage as well as the ability to store footage in the cloud. Most of the company's products have a high-capacity Micro SD card slot so you can store gigabytes of footage locally. However, you also have the option of cloud-based video storage for a small monthly fee.
Night vision function. Thanks to several infrared sensors, many Conico products are capable of capturing (and recording) video even in the darkest of nights, thus protecting your premises around the clock. The night vision function is automatically activated when light levels drop significantly. Some of the company's cameras also feature full-colour night vision, allowing you to see everything that is happening on your premises, even in low visibility conditions.
What makes Conico products special is their ease of installation and maintenance. By using wireless Wi-Fi transmission technology, they save you the trouble of running cables. Please note, however, that wireless devices are not completely wireless in fact, some are powered by AC mains. In the Conico catalogue, there are also devices with built-in rechargeable batteries and those which can be powered by solar panels. Being completely self-contained, the cameras with a built-in battery are the easiest to install. The only thing you need to do is to recharge the battery from time to time (or connect the cameras to a solar panel).
Conico Cloud IP Camera At $29.99
If you are looking for an affordable device for a security system in your small home, then the Conico Cloud IP Camera which costs less than $30 apiece may be your best choice (read a review). With a 2MP sensor and software tilt capability, it has a wide viewing angle (up to a 360-degree field of view). In addition, this unit is equipped with a night vision function, making it perfect for 24/7 video surveillance. When the IR mode is activated, it can be used as a baby monitor. Designed for indoor use, the Conico Cloud IP Camera has no weatherproof housing, so it can't withstand the elements. On top of that, it has no internal battery, so it's not actually a wire-free solution. On the other hand, this camera contains a lot of intelligent functions that competitors in the same price category can't boast of. So, if you are on a tight budget and are looking for a camera for home use, the Conico Cloud IP Camera will impress you with its features:
Stream live video directly to your smartphone (and recording to storage). By installing the Conico app, you can easily connect to any camera and see everything that's happening in your living room or children's room.
Two-way audio (read a review) thanks to a built-in microphone and speaker. In the event of an unauthorized intrusion into a secured area, the camera microphone can pick up sounds and send you an appropriate notification via the app. In addition, you'll be able to beep and even communicate with family members via the camera.
Night vision function with a distance of up to 33 feet allows you to see clearly what's happening in the camera's field of view, even in low-light conditions.
Cloud storage of footage as well as the option to insert a Micro SD card as internal camera storage.
Integration with Amazon Alexa smart assistant for even easier voice control of cameras.
With a wide range of features, an easy-to-use control interface via mobile app, a wide viewing angle and a night vision function, the Conico Cloud IP camera is a winner in its category of devices for home use. You're unlikely to find a similarly feature-rich device for as little as $30 per unit. Two-way communication and integration with a smart assistant are additional benefits of this solution that are hard to miss. However, if you want a more powerful solution with an advanced feature set or the ability to operate autonomously from the built-in battery, Conico has a few more options on offer:
Conico outdoor camera (read a review) with 360-degree viewing angle and built-in 15000 mAh battery that can be recharged by a solar panel. Available at around $150 each, this camera is a fully self-contained unit capable of securing a protected area 24/7. Supplied in an IP65-rated enclosure, it can operate in temperatures ranging from -25°C to 50°C, making it suitable for outdoor use. Built-in IR motion detection, two-way audio, object detection and night vision are additional features of this product.
The Conico Indoor Camera (read e review) has an 8x zoom and can be tilted up to 110 degrees vertically and up to 350 degrees horizontally. Containing a 2MP sensor, this camera is capable of capturing high-quality 1080P resolution images. An 8x zoom allows you to capture more details without any loss of quality. It also has night vision capability up to 32 feet away. Motion detection, two-way audio, simultaneous multi-device connectivity and Alexa integration are additional benefits. Available for around $50, the Conico Indoor Camera can be a more advanced alternative to the Conico Cloud IP Camera.
4G LTE Cellular Security Camera (the best wireless solution) – read a review. Available at a higher price than the options above (around $230 each), this camera has a SIM card slot. Support for 4G LTE (wireless) technology is a key advantage of this solution making it an excellent option for installation in areas with poor home internet coverage or in places where connecting the security cameras wirelessly via Wi-Fi is impractical. The device contains a rechargeable 10400mAh battery and comes with a 5-watt solar panel making it a fully self-contained solution. With a wide range of coverage, this product also contains a sensitive PIR motion sensor to reduce false alerts.
The products listed above are bestsellers in the Conico catalogue (the best options). And this list of bestsellers also includes a doorbell, which we'll tell you about below.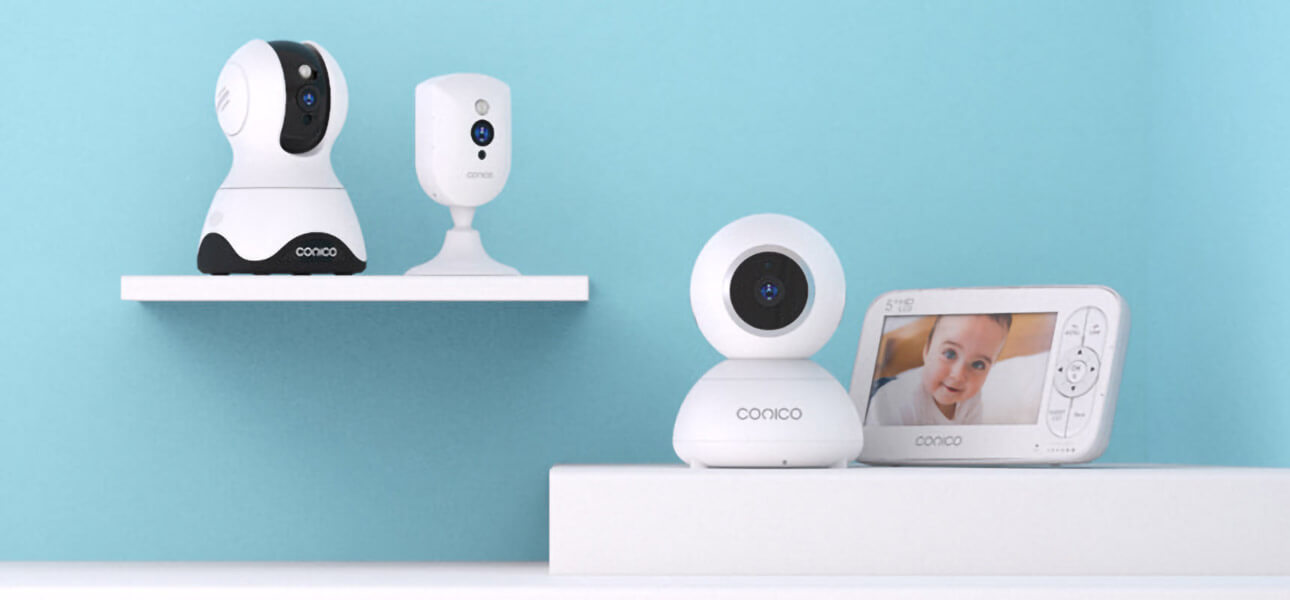 Conico Doorbell
Although doorbells with the ability to transmit live video directly to a smartphone appeared more than 10 years ago, they have only recently become really popular. Experts predict that the market for doorbells will almost triple by 2023, which is an impressive statistic. In the Conico catalogue, you will find a doorbell with a high-quality camera and two-way audio, which impresses you with its high level of functionality at a very reasonable price. A doorbell from Conico will protect your home from uninvited guests, and theft of parcels, as well as provide timely warning of unwanted activity on your porch. So, here are a few features of the Conico video doorbell worth considering:
Top security with high-quality video captured in real-time, a 166-degree viewing angle and a night vision function of up to 10 meters. In addition, the doorbell camera is equipped with motion detection sensors so that you will receive timely notifications on your mobile device with the Conico app installed (read a user review).
Two-way audio. The doorbell contains a built-in microphone and speaker, allowing you to communicate with the person at your front door in real-time. In addition, you can send recorded voice messages of up to 30 seconds, which is useful if you don't have the ability to communicate in real-time.
Excellent autonomy. The doorbell camera is powered by a built-in 6,700mAh battery that will last for 30-60 days of continuous operation without recharging.
The IP65 waterproof housing (the best protection) and a slot for a Micro SD card, which you can use as internal storage. There is also the option of storing (and recording) video data on a cloud service.
The video doorbell comes with installation instructions and all the necessary tools so that you can install it yourself without the help of experts.
Tips for Choosing a Home Video Surveillance Conico Camera 1080p HD
As the market for CCTV cameras has expanded considerably in recent times (read a review from the expert), choosing the right option can be a daunting task. However, if you do not have a large budget, the best thing you can do is go to Conico's online product catalogue which offers versatile and affordable solutions for securing your property. Here you will find both indoor and outdoor devices with night vision, motion detection, two-way audio and many other features that are a necessity in today's world. So, here are a few things to consider when choosing a good camera for your home security system:
The first thing to consider is the power source. Although most modern devices are powered by a wall outlet, you can also find standalone solutions with a built-in rechargeable battery. Finally, there are cameras that can be powered by a solar panel for fully autonomous operation. Keep in mind that wired cameras may slightly limit your ability to place them in the protected area.
A way of storing video. To use your footage as evidence, you need to find a convenient way to store the data. Most modern cameras have onboard storage (or a removable Micro SD card). However, there is also the option of storing on a cloud service, which involves paying a monthly fee.
Security system. Without a strong password for authentication and without the use of data encryption algorithms, your cameras can be an attractive target for intruders, so check with the manufacturer about the security methods available for transmitted data.
Alerts and live video streaming. Download an app that is compatible with the camera you want to buy to check its functionality and how user-friendly it is. Advanced apps allow you to control cameras remotely, send voice, receive notifications when a motion detection sensor is triggered and much more.
Angle of coverage. The wider the angle of coverage, the better your extra pair of eyes will be able to see everything that is going on around you. In the Conico catalogue, there are devices with a maximum coverage angle of 360 degrees.
Data transmission method. While most home cameras use a Wi-Fi network, there are also LTE/4G (wireless) technology-enabled devices that can be installed in places where it is not possible to use home Internet.
Finally, if you simply want to know who is at your front door, then you can buy and install a video doorbell which has the many benefits of security cameras with two-way audio, live video viewing and night vision functionality.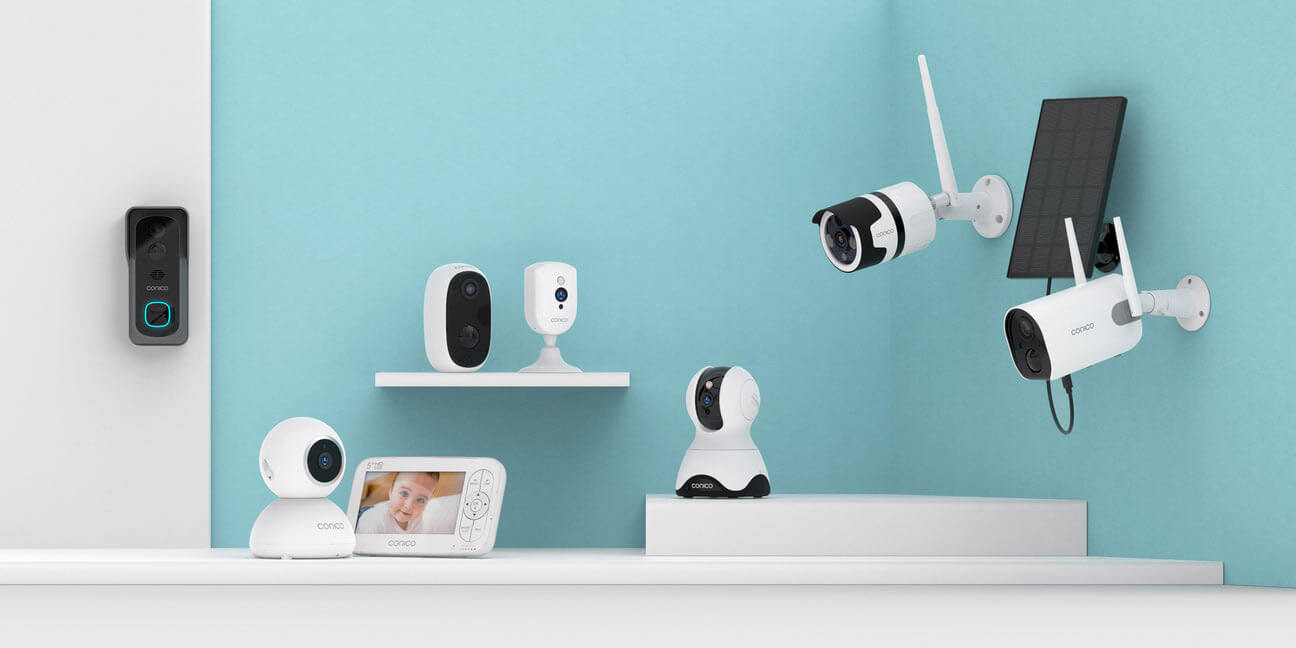 F.A.Q. Conico Wireless Outdoor Security Camera Review
What is a CCTV camera?
It is a device that works as part of a home security system and is capable of capturing video and transmitting it in real-time. In fact, cameras are the eyes of the security system and play a crucial role in keeping your protected property safe.
What is Conico?
Conico is a US-based company that designs and sells solutions for home security systems. The company's catalogue includes plug-in and standalone devices for both indoor and outdoor use, as well as video doorbells.
How do I identify a camera for outdoor use?
Such devices come with an IP65 waterproof housing (the best protection, read a review) because they are exposed to negative environmental influences.
What's the best way to store video?
You can buy a memory card and use it to store your footage directly inside the camera. However, the cloud storage option (a monthly fee is required) will allow you to access your video at any time via the app.
Why a video doorbell?
This device allows you to see whoever approaches your front door, communicating with the uninvited guest through two-way audio, thus providing additional protection for your home.
What features are a must for low-cost cameras?
Wide angle, quality images, night vision and motion detection. Paying more will also give you access to some of the more advanced features like object detection and two-way audio.
How does a wireless IP camera like the Conico 1080p HD connect to a Wi-Fi network?
The Conico 1080p HD wireless IP camera connects to a 2.4G Wi-Fi network, allowing for a seamless and reliable connection to your home network.
What are the advantages of using a wireless IP camera for home security?
Wireless IP cameras, such as the Conico model, offer flexible placement options, easy installation, and remote monitoring capabilities via Wi-Fi. They provide a convenient and effective solution for home security.
Does the Conico wireless IP camera support IP66 waterproofing for outdoor use?
Yes, the Conico wireless IP camera is IP66 waterproof, making it suitable for outdoor use. It can withstand various weather conditions, ensuring reliable performance and durability.
Can you provide an overview of the features of the Conico 1080p HD wireless IP camera?
The Conico 1080p HD wireless IP camera offers high-definition video quality, motion tracking, sound detection, and night vision capabilities. It also supports a 2.4G Wi-Fi connection, providing comprehensive home surveillance.
What makes the Conico home security camera an ideal choice for pet owners?
The Conico home security camera functions as a pet camera, thanks to features such as motion tracking and sound detection. It allows pet owners to monitor their pets remotely and ensure their safety.
How does the motion tracking feature work in the Conico wireless IP camera?
The motion tracking feature in the Conico wireless IP camera detects and follows any movement within its field of view. This ensures that any activity or potential intrusions are captured and monitored effectively.
Is the Conico home security camera suitable for indoor use as well?
Yes, the Conico home security camera is suitable for indoor use. Its compact design and versatile features make it an excellent choice for monitoring indoor spaces and enhancing home security.
Can the Conico wireless IP camera provide all-day recording capabilities?
Yes, the Conico wireless IP camera allows for all-day recording with the use of cloud storage or a micro SD card. This ensures continuous surveillance and convenient access to recorded footage.
What are the benefits of connecting the Conico wireless IP camera to a 2.4G Wi-Fi network?
Connecting the Conico wireless IP camera to a 2.4G Wi-Fi network ensures stable and reliable connectivity. This enables seamless remote access to the camera feed, real-time monitoring, and control of camera features.
Does the Conico home security camera support sound detection for added security?
Yes, the Conico home security camera is equipped with sound detection capabilities. It can recognize and alert users to specific sounds, enhancing the overall security of your home.
Can you provide a review of the Conico 1080p HD wireless IP camera for home surveillance?
The Conico 1080p HD wireless IP camera is highly regarded for its high-quality video resolution, reliable performance, and user-friendly setup process. Its advanced features make it an excellent choice for home surveillance.
How does the Conico home security camera ensure a secure Wi-Fi connection?
The Conico home security camera utilizes encryption protocols to establish a secure Wi-Fi connection. This ensures that your camera feed and data remain protected from unauthorized access.
Can the Conico wireless IP camera be used as an outdoor security camera?
Yes, the Conico wireless IP camera is designed for outdoor use. Its IP66 waterproof rating and durable construction make it suitable for monitoring the exterior of your home and enhancing outdoor security.
Does the Conico home security camera offer cloud storage and micro SD card support for video recording?
Yes, the Conico home security camera supports both cloud storage and micro SD cards for video recording. This provides flexible storage options and easy access to recorded footage.
How does the night vision feature in the Conico wireless IP camera enhance home security?
The night vision feature in the Conico wireless IP camera utilizes infrared technology to capture clear footage in low-light or dark environments. It ensures that your home is monitored and protected around the clock.