Although burglaries are gradually decreasing in developed countries, the value of what is stolen is increasing. This indicates that thieves are becoming more selective about whose home they enter, prioritizing items of real value. And if you need a solution that is not only a great deterrent to criminals but also helps uncover potential wrongdoing, there is nothing better than a home surveillance system based on compact cameras capable of capturing good quality video. Security systems based on devices such as Ring cameras can serve as an extra pair of eyes (with long field of view) and ears for you to increase your peace of mind. Installing a reliable Ring camera system in your home will increase your level of security and allow you to keep an eye on your property from any location wherever you are. Additionally, security cameras can serve as an effective psychological deterrent, as an intruder – having seen the cameras – is more likely to decide to skip your home to find an easier target. So, we are here to talk about the benefits of installing a Ring security camera system with which you will feel more protected.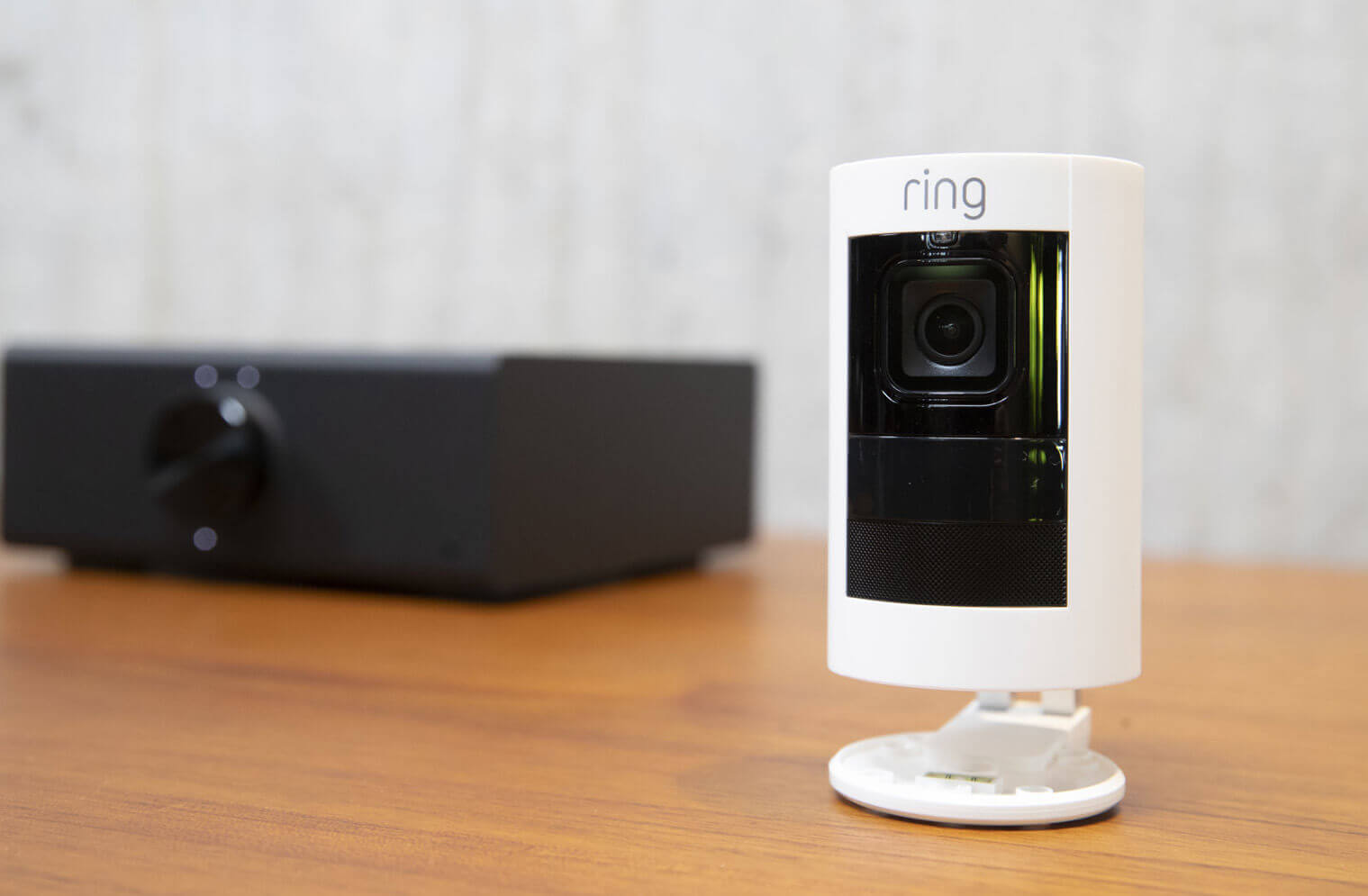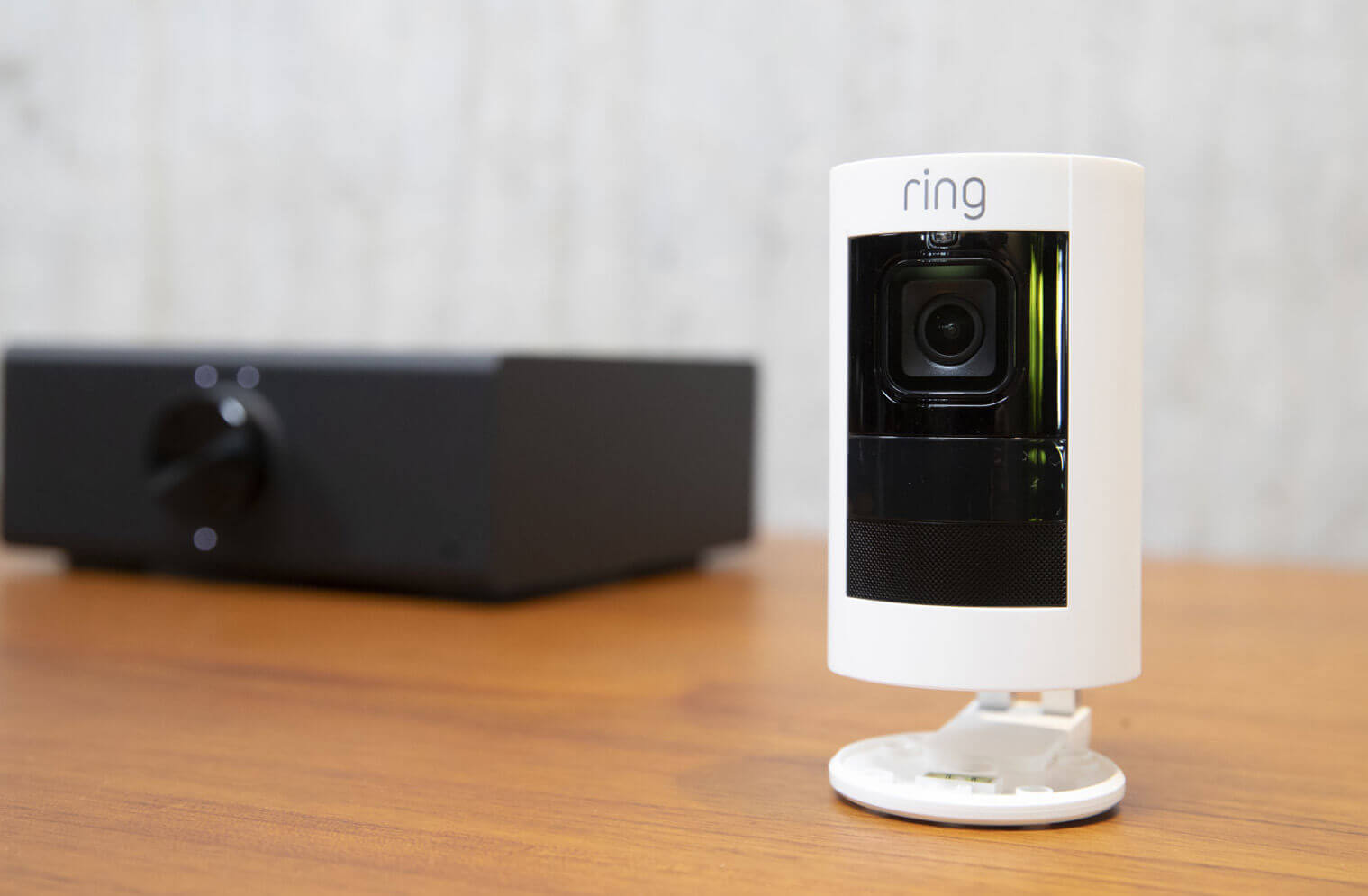 Ring Security Camera Systems
Although Ring started out as a simple video doorbell company, today it has created a whole new market for home security solutions. The company's product line includes a variety of devices and systems including video doorbells, indoor and outdoor (home) security cameras and more. If you are considering buying Ring security cameras, you are in the right place. Here's a brief history of how a small start-up turned into one of Amazon's most valuable acquisitions, as well as the features and benefits of the brand's products.
What is Ring?
Launched in 2013, Ring is the company behind entrepreneur Jamie Siminoff who decided to create a device capable of showing you who is at your front door. Able to transmit video data to devices remotely, Ring Video Doorbell could show you who your guest was even if you weren't at home. Although the range of features of the first video doorbell presented by the start-up was not impressive and included the ability to capture 720p quality video, an infra-red night vision sensor, motion detection and real-time video streaming, it was enough to become a sought-after product. With its focus on simple, DIY installation, Ring has expanded its product line to include customizable motion detection, a bird's eye view, higher-quality sensors, and other features. The Ring team has worked hard to make its home cameras reliable, versatile and easy to use in a variety of environments, which is why the company has caught the eye of the e-commerce giant and been able to achieve such impressive results.
Advantages of Ring Home Security Camera Systems
If you are looking to improve the security of your home and need a reliable solution, there is a good chance that you will choose Ring products. The company offers a wide range of security equipment and camera systems that are easy to install, trouble-free to use, and work really reliably. What's more, Ring has security solutions with features to satisfy almost every need. And in the company's product catalogue, you can easily pick up a smart option to suit your budget. So, let's take a look at a few of the things we love about Ring home camera security systems:
The high quality of captured video with 1080p resolution. Although the first device released by Ring did not meet this quality format (long field of view), the company has made efforts to improve this point. The image transmitted by the devices is of high quality (the best options, read review), clear and crisp. Most importantly, the Ring devices use an efficient video compression algorithm that does not overload networks, even those with relatively low bandwidth.
Cloud storage. Ring offers a monthly cloud storage subscription option (within the monthly plan) starting at just $3 per camera. If your home camera security system includes more units, you can choose the option of $10 per month for the ability to connect an unlimited number of cams (the best option to protect your property according to review). The latter option is preferable if you plan to install more than three home cameras, or if you want to be able to view what is happening in your facility 24 hours a day.
A wide range of options in terms of functionality, including alarm. Ring has a vast array of indoor and outdoor cameras on offer (read review), including units with intelligent lighting, built-in battery and even solar-powered options.
Additional features. If you want your cameras to recognize various objects, animals and human faces, Ring has home security solutions in its product catalogue (read review for the best options to protect your property). You can also choose security camera systems which include intelligent motion sensors, searchlights and other features.
Alexa integration. Chances are you have a smart speaker from Amazon with a built-in intelligent assistant, and you'd like to control your camera surveillance system (with alarm) by giving voice commands (read review for the best options). The good news is that Ring devices integrate with both Amazon's voice assistant and some competing products like Google Assistant.
In addition to the above, most Ring devices come in a compact package with a design that literally blends in with your interior or exterior. They are also easy to install and configure, making them an excellent choice if you do not want to call in a professional home security installer.
Things You May Not Like About Ring Home Security Camera Systems
If Ring's devices were perfect in every respect, the company would have monopolized the market with all competitors forced out of business. However, there is nothing perfect in this world, and Ring products are no exception to the rule. So, Ring devices are indeed capable of securing your property as well as alerting you to unwanted guests. But there are several reasons why some people choose not to buy Ring cams, with most based on myths and prejudices:
You will be involved to some extent with the police. Over the years, Ring home security camera systems have succumbed to criticism that police can access footage on request. Although the company has recently refused to cooperate with the police in helping ongoing investigations, the police still have ways to force Ring to provide access to the footage.
Ring cameras make parents paranoid. Allowing not only to monitor what's going on in the house but also to transmit a voice, the Ring home cameras have been the cause of many memes when a father is overly controlling his daughter. However, there are many other devices that allow you to do the same. So, it is rather a problem of the parents themselves who regard their children as their property than Ring camera security systems.
Some recent studies suggest that video surveillance systems are not as effective a psychological deterrent to home invaders as vicious dogs.
Giving access to your personal data to third-party trackers. By cooperating inexorably with trackers, Ring not only obtains analytics on the use of its devices but also a bunch of other data, thereby essentially interfering with your privacy.
Cloud storage can be susceptible to hacking. Although there have been a few cases where intruders have been able to connect to the cameras and access the cloud storage (within the monthly plan), Ring does its best to improve the reliability and security of its products and services.
Finally, Ring home cameras can put a significant strain on your home Wi-Fi system. However, if you want a truly reliable solution to protect your property, then you should take care to increase the bandwidth of your home network (smart decision), regardless of which brand of security camera system you choose.
Ring Security Camera Models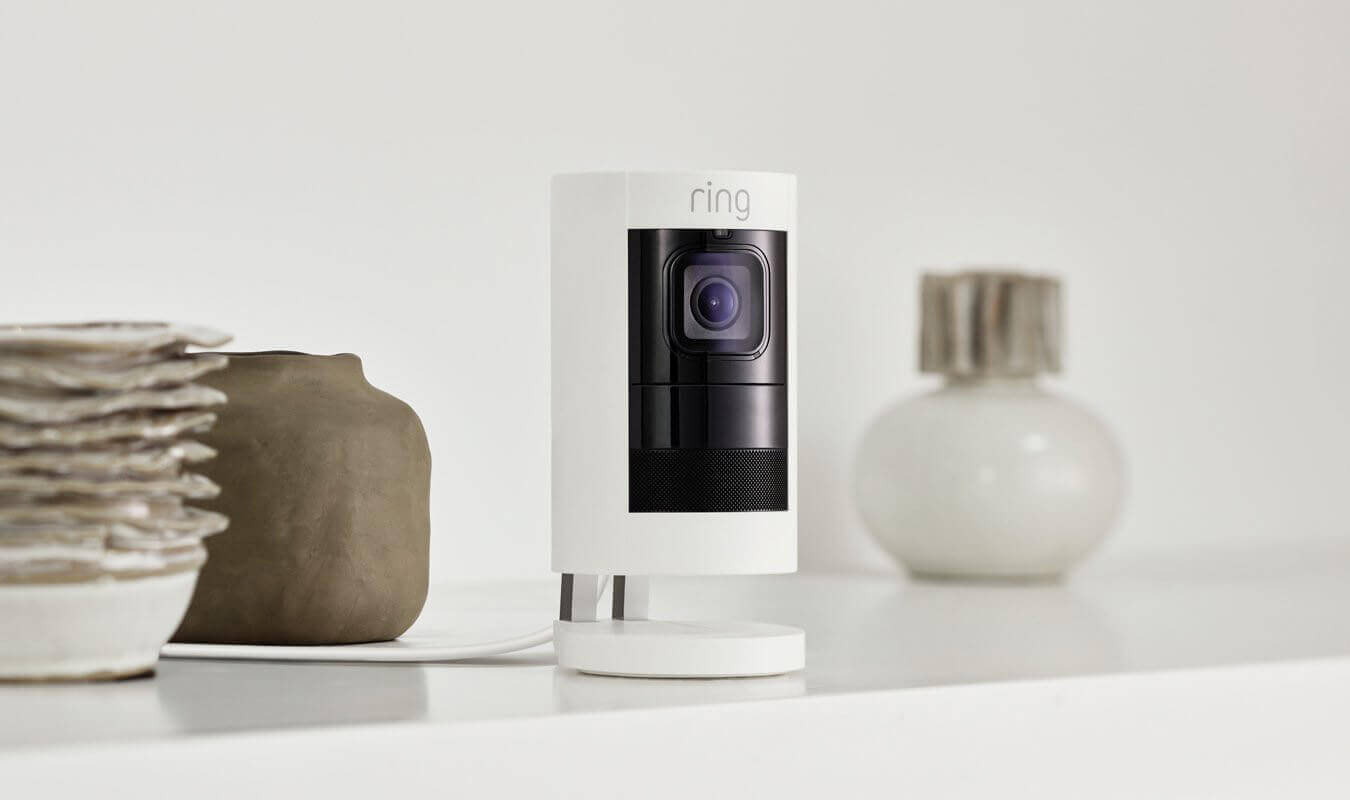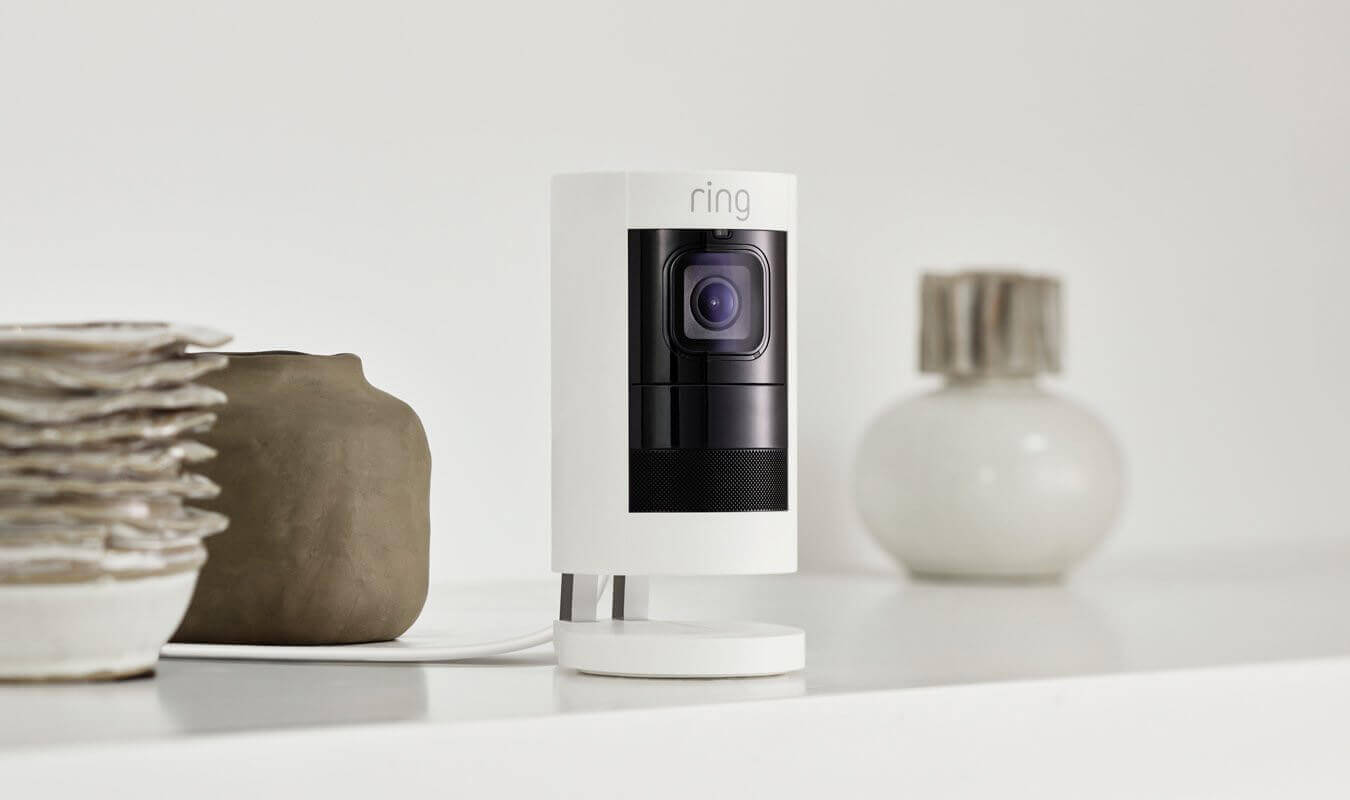 Built in a compact package and offering great functionality with smart voice assistant support, Ring home cams are a great option. By choosing Ring, you will not only be able to install and configure the system yourself, but also gain access to some exciting features such as motion sensors, night video, intelligent object and face recognition, alarm and much more. So, let's take a look at some of the models of Ring security camera systems that are most in-demand today:
Ring Indoor Cam (read review, probably the best option with alarm on the market to protect your property). Rated one of the best security cameras for indoor use in 2022, this device has a compact size which has not affected its functionality. You can install the cam in any location, whether it's a living room, kitchen or closet, and with 1080p HD video (the best quality, read review), it will be an extra eye-opener for you. Here are some key features you get: colour night vision, motion detection activation, sending notifications and two-way communication. You can simply set the Ring Indoor Cam on some surface or mount it on a wall or ceiling. To connect the power, all you need is a Micro USB cable. By buying several of these devices, you can synchronize them to build a complete security camera system controlled through a special mobile app. The low cost of the device only $60 is yet another advantage of this model.
Ring Floodlight (read review). With a 2,000-lumen floodlight that turns on when motion is detected, a 140-degree angle of view, 1080p video, two-way communication and a speaker that can emit a signal (alarm) up to 105 dB, the Ring Floodlight is an excellent device for outdoor use. The highlight of this device is a warning function that informs people that their video will be recorded in the event of motion detection. Ring Floodlight is available as a standalone camera with a built-in battery, as well as a wired device. However, either way, this camera has weatherproof housing that can withstand almost any weather conditions. Ring also offers Plus and Pro versions of this security camera with some improvements such as a louder speaker, HDR support, bird's-eye view (long field of view) and even colour night vision.
Ring Spotlight (read review). If you're the kind of person who wants to keep an eye on what's going on your porch or backyard, this device with two LED spotlights and a 110dB speaker (alarm) will not only be your eyes (with long field of view) but can warn you of a potential threat. Add to that a 1080p HD video (long field of view), night vision, and various power options (there are several versions of this Ring security camera) and the relatively low price of around $200-250, and you get an outdoor camera that has virtually no worthy competitors in the market.
Video Doorbell (read review, the best option on the market to protect your property). It is, in fact, the device that started Ring's history. However, in 2022, a more modern version is available with much more advanced functionality than the original device introduced almost 10 years ago. By installing this unit, you will enjoy a quality video with 1080p HD resolution (long field of view), and see what is happening at your front door in real-time at any time of the day thanks to the night vision function. Two-way communication, a customizable privacy system, sending alerts, motion detection and Alexa integration are additional features of the Video Doorbell camera system from Ring. Easy to install and equipped with a rechargeable battery, it costs only around $100, making it perhaps the best option on the video doorbell market. Although it cannot be called a complete security solution, you will always see who your guest is.
Stick Up Cam (read review). If you need a more versatile device that can be installed both indoors and outdoors, Stick Up Cam (long field of view) with its small size and multiple power options (AC power, built-in battery or solar panel) is a great solution. It captures full HD video, has two-way communication and a motion sensor. Thanks to its special case design, you can either place Stick Up Cam on your desk or mount it on the wall or ceiling. Designed for both indoor and outdoor use, the camera is weatherproof and designed to withstand the weather. Although it doesn't have a built-in light unit, you can buy it for just $99, which is a great advantage. Finally, Ring also offers a more expensive PoE-enabled version of the camera so you don't have to charge the battery and have Wi-Fi network congestion issues.
Ring also has a variety of other devices and modifications on offer – to find out more about them, just head over to the company's website. Bought in 2018 by Amazon, Ring offers products that are fully compatible with the Alexa smart voice assistant (the best smart assistant according to Amazon customers). That means you can ask the assistant to show you an image from any camera (within the monthly plan), whether it's a device in your living room or a video doorbell.
Installing Ring Cams
Although there are many different devices in Ring's catalogue in terms of design and application, the ease of installation is a feature that unites (with long field of view) them all. For example, most indoor camera models can simply be mounted on a flat surface, plugged in with a Micro USB cable, then you can enjoy the images they transmit. If you have a standalone unit with a built-in battery, keep track of it and charge it in time. To install a wired ring security camera, you need to choose a suitable location and make sure the cord is long enough.
When it comes to installing outdoor devices, things are a little different as you will have to do a bit more work. It is not necessary to hire a professional installer because you can still install a Ring camera yourself. Fortunately, Ring has lots of video tutorials on how to install and set up their products, so you'll find that these units are really easy to work with.
Ring offers a one-year warranty on all their products, so if you come across a defective unit, you'll get a free repair or replacement unit under the terms of that warranty. In addition, Ring promises to replace any of its cameras that have been stolen free of charge. The company also has two extended warranty plans with which you get additional benefits including 60-day storage (within the monthly plan) of your footage (motion picture), back-up, a dedicated secure channel, discounts on some of the company's products and more (within the monthly plan).
Summary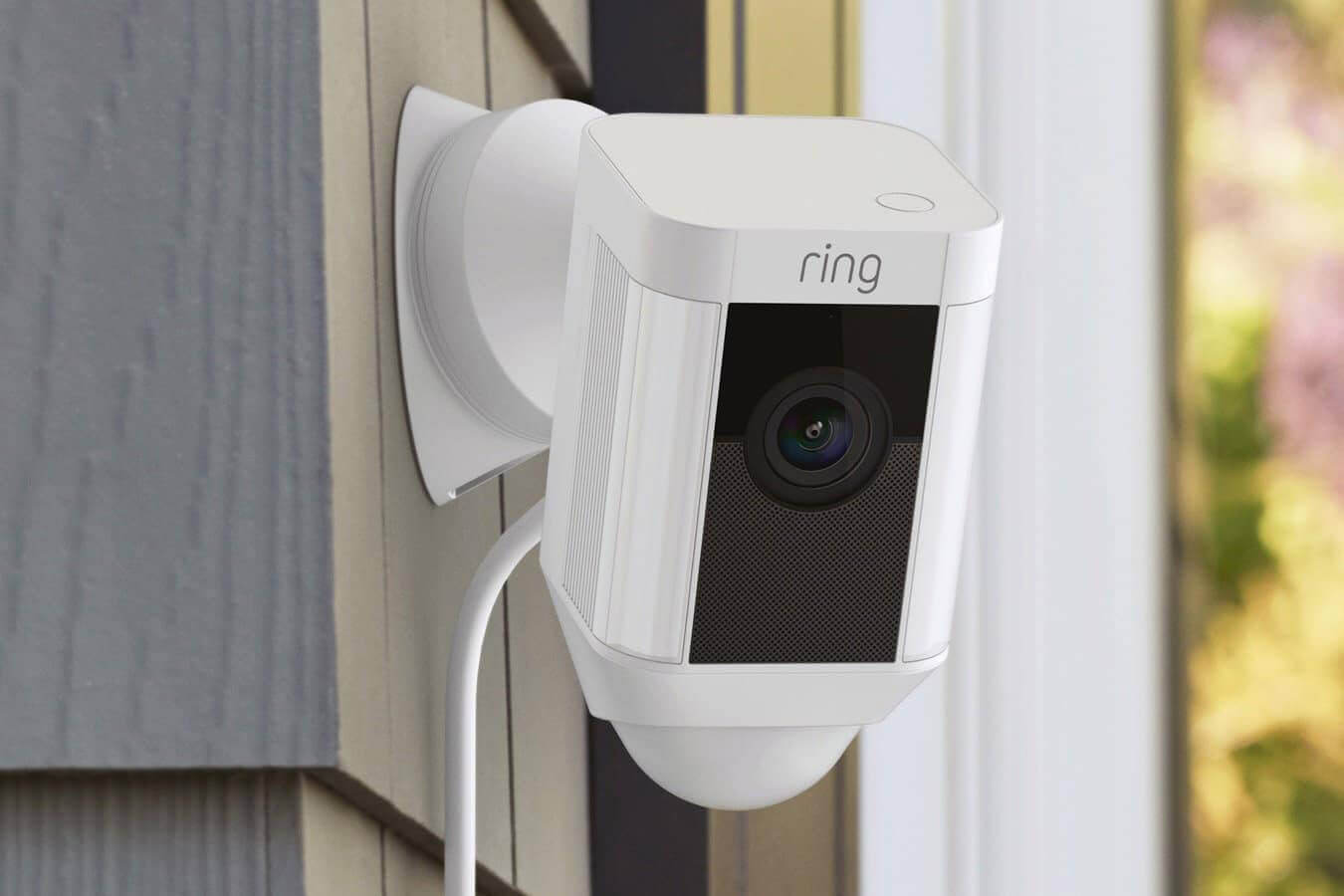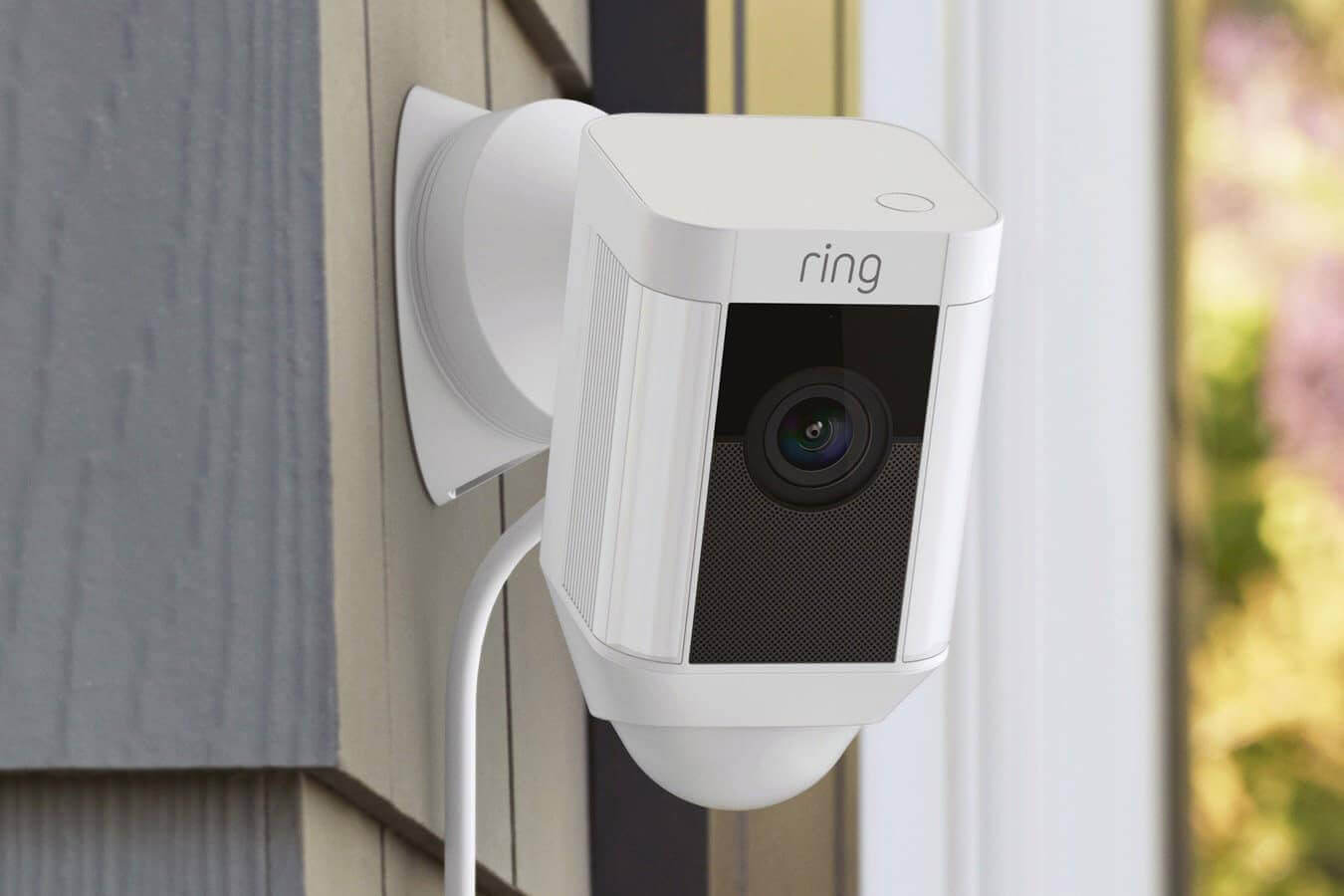 Ring is the company that has encouraged millions of people to use a video doorbell. Having introduced its first product in 2013, the company has come a long way and is now a provider of quality and low-cost solutions for both indoor and outdoor security camera systems. Thanks to their ease of installation, reliability and versatility, Ring products often make it to the top of the best security camera rankings. Whether you want to see what's going on in your big house or just see who's at your front door, Ring has the products to meet your needs. To increase the efficiency of your home security system, you can buy several different types of cameras, such as doorbell video, outdoor units and indoor ones. Compared to some competitors, Ring offers a more affordable solution in terms of price without compromising on quality and functionality. The only condition you have to meet is to have a Wi-Fi network with good bandwidth. 
F.A.Q.
1. What is a Ring?
It is a start-up company that launched in 2013 when it introduced a doorbell with some advanced features, including the ability to watch live video (within the monthly plan). Thanks to the success of its first product and the expansion of its range of home security cameras, Ring has managed to grow into a major company that was acquired by Amazon in 2018.
2. What types of cameras does Ring offer?
The company's catalogue covers many models of security cameras with a few of the most in-demand including Ring Spotlight (read review), Ring Indoor Cam (read review), Ring Floodlight (read review), Stick Up Cam (read review) and also a video doorbell which has been significantly improved (higher quality video and some intelligent features).
3. Does Stick Up Cam have moisture protection?
As one of the lowest-cost all-in-one home cameras (the best cam solutions to protect your property), Stick Up Cam (long field of view) has waterproof housing so it can be installed both indoors and outdoors to monitor what's going on in your area. However, if your goal is to build an outdoor surveillance system, we recommend choosing the Ring Floodlight which has a built-in 2,000-lumen floodlight (probably, the best cam with alarm on the market to protect your property) and some additional features.
4. Are Ring cameras compatible with voice assistants?
Since Ring was acquired by Amazon in 2018, the cameras now fully support Alexa, Amazon's smart voice assistant. However, Ring cameras also integrate with other voice assistants including Google Assistant.
5. Do I need to call in a professional to install a Ring camera?
In most cases, you can install a Ring camera yourself without having to call a professional. However, if you want to create an effective outdoor video surveillance system (the best according to review), you may encounter some problems such as selecting installation locations and heights as well as cabling. In this case, it makes sense to contact a professional surveillance camera installer.
6. Why are Ring cameras so popular?
Ring products are in demand because they offer a decent feature set at a reasonable price. For example, you will hardly find a cheaper camera belonging to the same class as the Stick Up Cam at a lower price.