If you want to increase the level of security in your home, there is probably nothing better than installing wireless security cameras. With these smart devices, you get an extra pair of eyes to see everything happening on your property at any given time and from any location. Having several indoor and outdoor cameras will make you feel more confident that your home and property are safe and secure. However, with today's home security camera market literally overflowing with devices from various brands, choosing a good option can be a daunting task. We're here to help you understand the variety of wireless security cameras, how they work, and what types of wireless cameras are available. We'll also talk about the pros and cons of Bluetooth security cameras which are in high demand today. So, if the security of your loved ones and your property is a priority for you, then keep reading to make the best choice.
What are Wireless Security Cameras?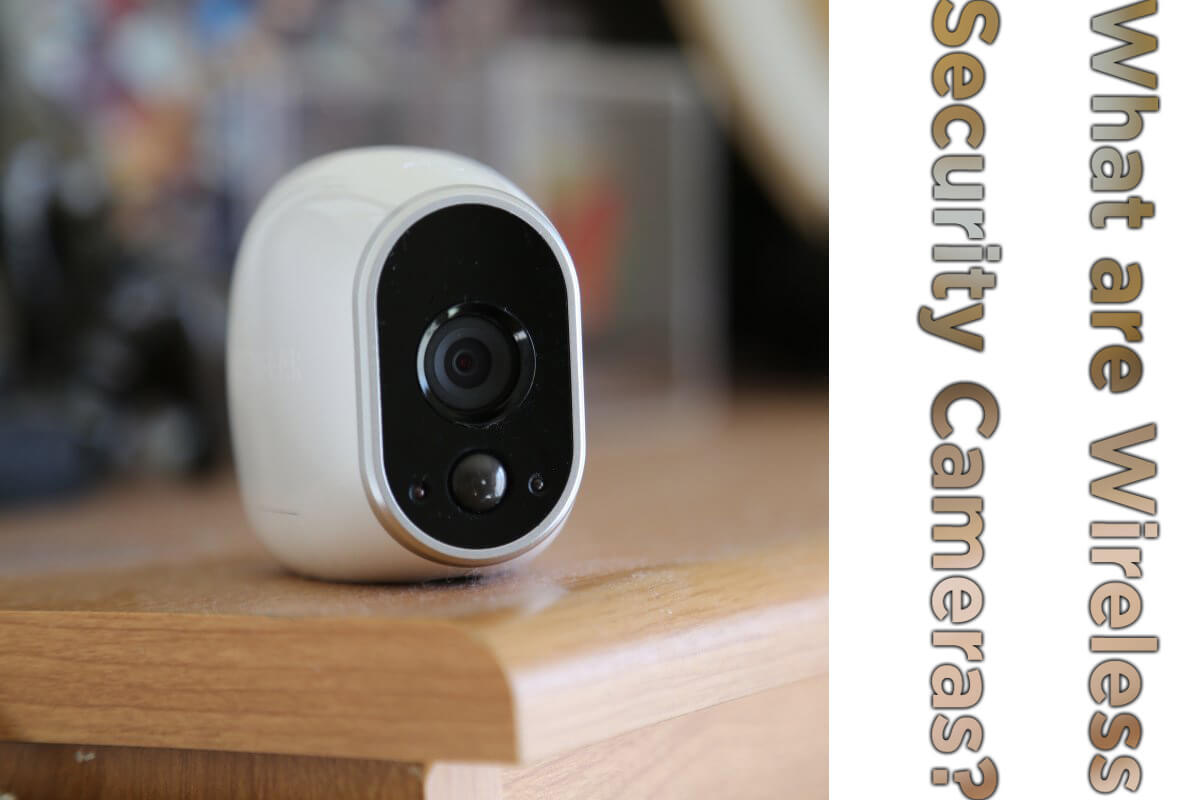 The days when camera-based home security systems were very complicated with cables and a central video recorder are long gone. Today, you can buy multiple wireless cameras and connect to them remotely via laptop or even smartphone to see everything happening on your premises in real-time. And the main advantage of today's security cameras is that they have become more user-friendly with fewer cords and the ability to install the system yourself (DIY). Note, however, that although the cameras are claimed to be wireless, they can have power cords for plugging into an outlet. If you want to buy a wire-free device, then look towards standalone security cameras powered by built-in rechargeable batteries or a solar panel. Another important thing about modern home security cameras is that these smart devices contain both a transmitter and receiver signal so they can communicate with each other and your smartphone app in real-time. Firstly, modern devices can receive instructions from you when you make certain settings via the mobile app. For example, you can send a voice to the camera speaker or switch on a spotlight remotely in case motion has been detected. Secondly, the cameras can transmit a signal including live video, audio (if the device includes a microphone), and text notifications in case the abnormal activity is detected in the camera's field of view. And what makes them special is that they communicate via wireless links which means that you do not need to run cables. Here are the most popular communication channels used by today's wireless home security cameras:
Zigbee/Z-Wave. Designed specifically for smart home devices, this communication channel has low bandwidth which makes it unsuitable for transmitting large amounts of data such as live video. However, Zigbee/Z-Wave support means that your cameras can integrate with your smart home system and interact with voice assistants such as Google Assistant or Amazon Alexa. If you don't have the time or ability to make manual adjustments to your security cameras, you can easily control them via voice commands, which is very convenient.
Wi-Fi. Developed over 25 years ago, this wireless transmission technology is used everywhere today, including in security cameras. You can easily connect the cameras to your home Wi-Fi network to be able to send instructions to the cameras, receive notifications from the devices, and view the video in real-time, as modern standard Wi-Fi provides relatively high bandwidth. Depending on the model of the Wi-Fi camera, it can send video to the local video recorder, upload it to cloud storage or record it to internal storage. The only drawback is that these devices can put a serious strain on your home wireless network.
Mobile data networks (3G/4G/LTE). Thanks to the development of cellular networks, you no longer need to have a Wi-Fi connection to communicate over a wide area network. Advanced companies such as Ring, Arlo and others have cameras in their catalogues that work with mobile wireless data networks. These devices include a tray for a SIM card so you can choose the operator with the cheapest data plan that suits you. Indoor or outdoor security cameras supporting 3G/4G/LTE are a good choice for those whose home Wi-Fi network has low bandwidth.
Bluetooth. This wireless transmission technology is also not new and is used by many modern devices for real-time data exchange. Operating on the same frequency as Wi-Fi, Bluetooth uses a star-shaped camera connection topology where one device is the primary and up to six devices are secondary, i.e., controlled by the primary. Since Bluetooth does not provide access to the global network, cameras using this technology will not be able to send notifications or video to your smartphone. However. they can use this data link to record video to the network hub.
So, given that Bluetooth is a technology with a much more limited range than Wi-FI – and with no ability to communicate directly with the Internet – it might seem that Bluetooth security cameras are pointless. However, that's not entirely true. Suppose you have a network hub to record video to. If the hub is connected to the internet, you could access it remotely via your laptop or mobile phone. This way, your Bluetooth home security cameras will not be using the Wi-FI network for video transmission, thus significantly reducing the load on your home wireless network.
Pros and Cons of Wireless Home (Indoor and Outdoor) Security Cameras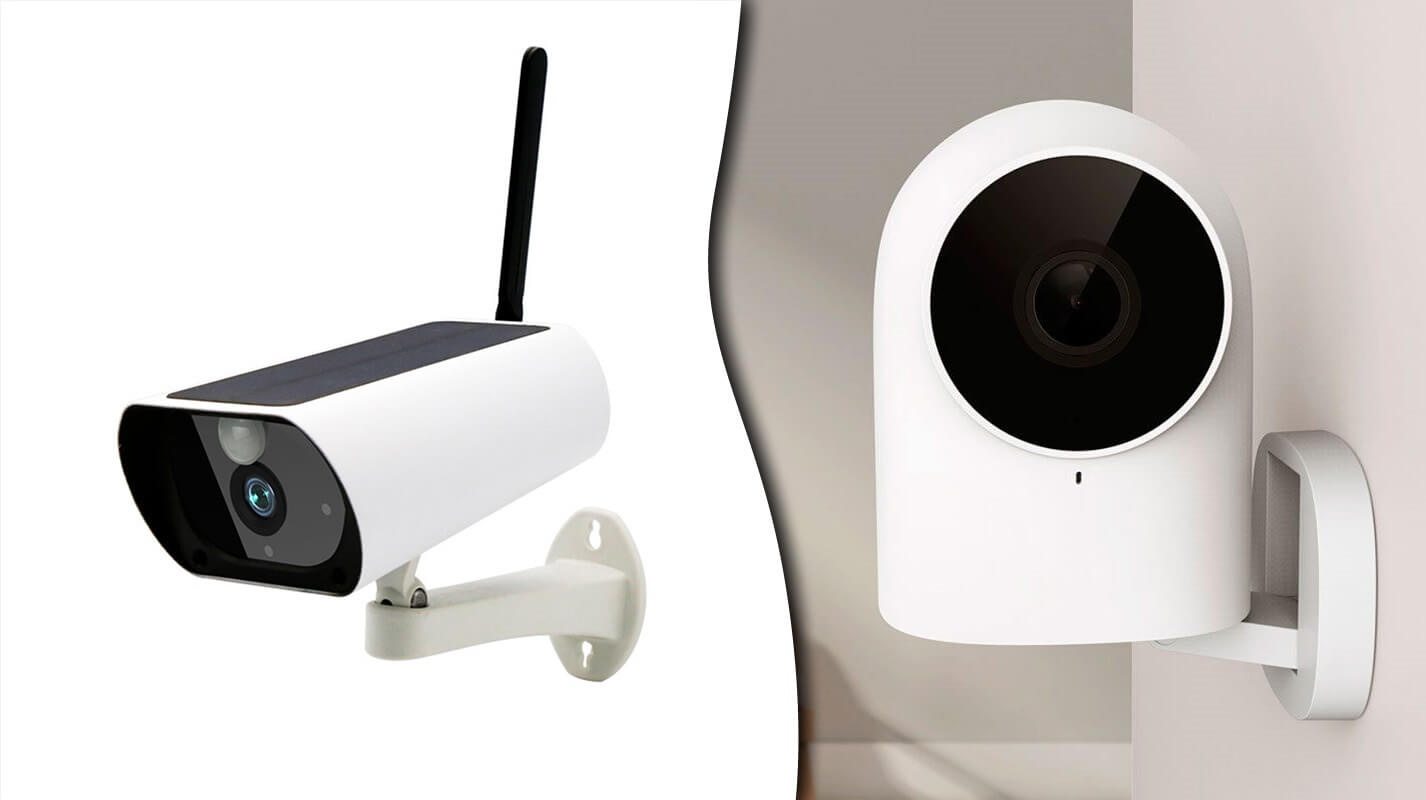 With the development of wireless data networks, security cameras have done away with long cables to become even easier to install and connect. When you link up to the cameras over the internet, you can access that 'extra pair of eyes' from anywhere, even if you're hundreds of miles away from your home. As for outdated home security cameras with coaxial cables, you can only view the recorded video from the video recorder. So, when it comes to the benefits of wireless security cameras, here are a few worthy of your attention:
Ease of installation. In most cases, you just need to select a location for the camera and install it with a simple set of tools. If the camera is AC-powered, it should be located so that the cord is long enough to plug into an outlet. Alternatively, you can buy a unit with a built-in rechargeable battery to get rid of wires altogether. Keep in mind that security cameras are divided into devices for outdoor and indoor use, so pay attention to such things as the degree of waterproofness of the housing. There are also universal devices which can be installed both indoors and outdoors.
Easy operation and maintenance. To build a camera-based security system, you just need to install the devices and download a mobile app to get set up quickly with a few taps. Since today's wireless cameras are smart devices with advanced software, they easily sync to create a complete security system for your home. In most cases, maintenance is simply a matter of recharging or replacing the battery and internal storage if they are available.
Advanced features. Firstly, most modern cameras are equipped with motion detection sensor, which is responsible for many other functions, such as automatic activation of the camera (turning on video recording mode), sending notifications, turning on the spotlight, playback of audio and so on. More advanced models also have the function of recognizing objects and faces based on machine learning algorithms.
Integration with smart home systems. Most of today's wireless cameras integrate seamlessly with smart home systems allowing you to control the operation of your devices through the voice assistant function such as Alexa, Siri or Google Assistant.
Watch the video in real time. By installing the application on your phone or desktop device you will be able to see everything happening in the view of the cameras when you are far away from the protected premises.
Reasonable price. Although there are cameras like the Vivint Outdoor Camera Pro at about $400 apiece, you can also find cheaper options like the Wyze for around $20. However, keep in mind that the available camera features and costs are in direct correlation, so if you need an advanced security system with object and face recognition, you will have to pay $100-200 for each camera. However, given the level of security they provide, these cameras are worth every penny.
Keep in mind that wireless cameras are not perfect devices. This means that they have a few drawbacks that you should be aware of. They require a wireless data network with high bandwidth. The more smart features they offer – and the higher quality video they capture – the more strain they can put on your home network. However, Bluetooth security cameras partially solve this problem because they don't use your home Wi-Fi network to send video to the network hub. On the other hand, both Wi-Fi and Bluetooth (read technology review) are networks prone to hacking. Also, most inexpensive wireless home security cameras won't offer high-quality, clear video because they use outdated sensors.
As for wired cameras, they are still in demand because they have two important advantages. First, they can capture crystal-clear high-definition video because they transmit data over a cable with a high data bandwidth. Secondly, wired cameras are virtually immune to hacking from the outside. So, if you require the most robust security system for your home, wired cameras are probably worth considering. However, along with wires, you get a lot of problems associated with laying and masking them. You will also need to purchase a network video hub with a WAN connection if you still want to monitor the area remotely.
Features of Bluetooth Security Cams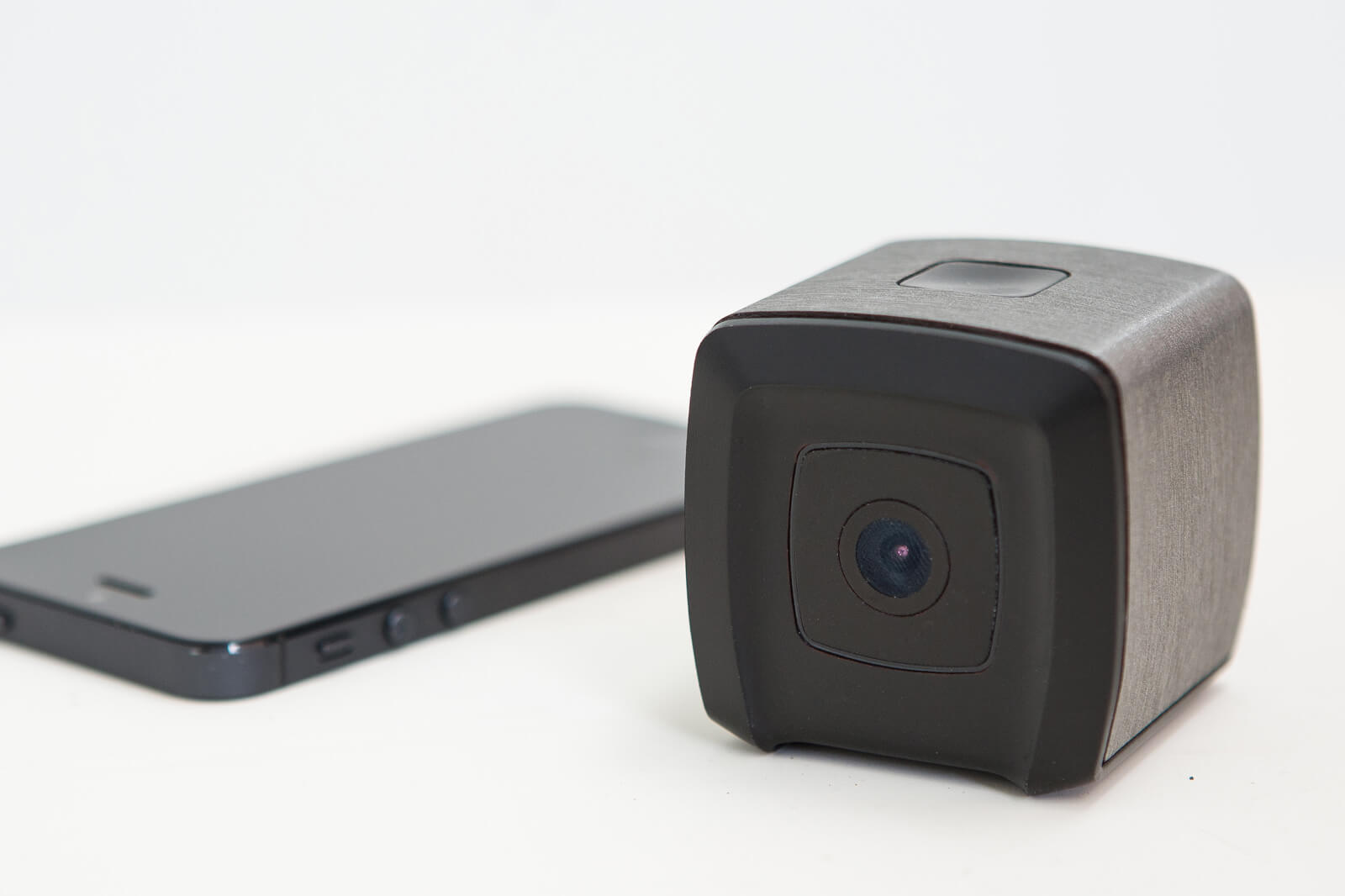 If you are looking for cameras that you can control from a short distance or simply want to reduce the load on your home wireless network, then Bluetooth devices may be your best choice. Look at a review of any modern phone and you will find that it has Bluetooth support, even if you didn't know it before. Bluetooth is a wireless network for exchanging data over a range of 10 to 100 metres. With a Bluetooth camera, there is usually a network hub or other device that connects to the Internet and thereby allows you to view video and control the camera remotely. Note, however, that Bluetooth is not a secure data transmission channel. Intruders could use a device to jam the Bluetooth signal or even access it. However, in most cases, Bluetooth home security cameras do the trick. And if you choose to buy one to build your own home security system, here's what you need:
Reliable Bluetooth cameras. Check things like cable length, battery life (if there's a built-in battery), range (up to 100m), type of housing and how well it's protected (against burglars and vandals as well as the environment), tamper-proof, and other things.
A wireless access point incorporating Bluetooth to communicate with cameras and Wi-FI (or Ethernet) to transmit data to a WAN, so you can receive notifications, control cameras and watch videos remotely.
A reliable power connection. You can buy plug-and-play cameras as well as standalone cameras with built-in batteries. There are also solar panel cameras on the market.
So, while Bluetooth cameras can significantly reduce the strain on your home network, they are not ideal devices. Due to their susceptibility to hacking, they are not suitable for securing large homes or premises where valuable items are stored.
Top 5 Wireless Security Cams Worth Considering
We've compiled a list of what we think are five of the best wireless security cameras for home use that will help you keep an eye on your property, detect potential intruders and even deter uninvited guests. Each of the cameras below (we review them) has all the features you need to keep you and your family safe. We conduct privacy and security tests on every product to ensure they meet all high standards. By choosing any of the devices below (read a review) you will enjoy the high-quality video as well as the range of smart features mentioned above in this post:
Arlo Essential. Available from $100 to $160 (depending on the range of features available – see review), Essential may be the best choice for those wishing to create a reliable camera security system in their home at a reasonable price. This camera model includes colour night vision, built-in floodlight and a siren. It seamlessly integrates with voice assistants and smart home systems and has a built-in battery for standalone operation. What makes Arlo Essential special is that it connects directly to your wireless home network without any additional station. More importantly, it offers high-resolution video as well as data security and privacy. Arlo offers several cloud storage plans. Alternatively, you can purchase the Arlo Smart Hub, a device that allows you to store your video footage in local storage. Keep in mind that Arlo Smart Hub is also a must if you want your security cameras to communicate with Alexa, Siri, and Google Assistant.
Arlo Pro 2. Given the range of smart features and the quality of the video it captures, it is considered the best choice by many experts in home security camera systems. In addition, experts note the high security of transmitted camera data, although privacy could be better. In terms of functionality, Arlo Pro 2 offers 7-day video storage upon initiation of recording with a motion sensor, object detection and recognition, an emergency response button to call law enforcement agencies, as well as integration with voice assistants and smart home systems from various companies such as Amazon, Apple and Google. To record continuously and store your footage in the cloud, you can subscribe for $10 a month per camera. However, you also have the option of storing video on an external storage device that connects to the base station. The price of $180-220 per unit is probably the only drawback with this model.
Arlo Pro 3. The Pro 3 is an improved version of the popular Arlo, with a built-in spotlight for colour night vision and a built-in alarm (according to the review, the alarm in Arlo Pro 2 is located in the docking station). Improvements to the previous version include better 2K HDR video as well as a 160-degree field of view. Pro 3 also offers advanced object and person detection, an emergency response button and a 24/7 continuous recording subscription at an affordable price.
Eufy Solo. If you need a low-cost indoor camera with a basic set of features, the Eufy Solo is – according to the review and opinions of our experts – the best choice. Priced from $30 to $40 per unit, it captures good quality video, has a short response time, provides a decent level of security for transmitted data and also offers a range of smart features necessary to ensure a high level of security for your protected area. Equipped with people detection (and even crying detection – according to the review – if you want to use it as a baby monitor), the Eufy Solo offers a variety of uses. It also integrates with voice assistants and smart home systems and has a microSD card slot if you don't want to buy cloud storage.
Ring Stick Up. Available at prices between $100 and $130 each, it can be installed both indoors and outdoors as it has waterproof housing. In expert tests, the camera is rated "excellent" and "good" for video quality, response time and data security. Given the list of available features – including monitoring zones, voice control, motion detection, people detection, and more – this may be the best choice for those on a tight budget. One of the reasons why this camera was at the bottom of our ranking is that Ring has raised the price of the basic plan, which now costs $40 a year per device. According to the company, in the future, this camera will come with several smart features such as parcel detection, sound detection, object recognition, and more.
So, our ranking includes both fairly expensive devices priced over $200 per unit as well as budget options like the Eufy Solo that almost anyone can afford. Most importantly, whichever camera you choose, it will provide good quality video and a decent feature set without compromising on the security and privacy of your data.
Summary
Wireless security cameras have been proven to work effectively in securing your premises. With motion detection sensors, smart objects and human face recognition, emergency notifications and night vision, they allow you to see everything happening on your property at any time of day or night. More importantly, they also provide a preventive function, as a survey of burglars showed that the presence/absence of security cameras was the deciding factor for them in deciding to enter someone's home.
F.A.Q.
1. What are wireless security cameras?
These are smart devices that are used to create home security systems and do not require a cable connection to the network as they can transmit data wirelessly.
2. What is the difference between wireless and wire-free security cameras?
Wireless cameras use a home Wi-Fi network, Bluetooth technology or mobile networks to communicate, but they can be powered by a wall outlet. As for the wire-free devices, they contain a rechargeable or replaceable battery, ensuring they are fully autonomous in the absence of cable.
3. What are Bluetooth cameras?
They are devices that use Bluetooth wireless technology to communicate with a network hub or station. Thanks to their Bluetooth support, they reduce the load on a home Wi-Fi network.
4. Who needs wireless security cameras?
Most often, these devices are purchased by tenants, landlords, families and smart homeowners. In general, they are suitable for anyone who wants to create – or extend the functionality of an existing – security system.
5. Do I need to call in a professional installer?
The ability to install and set up the camera yourself with a minimum of effort is one of the important advantages of wireless cameras. It is the best solution for those who want to do everything themselves. However, if you want to place the units in locations that are difficult to access, it makes sense to contact a professional installer.
6. Can wireless cameras work without an internet connection?
There are many cameras on the market with microSD card trays as well as devices with a network hub that can store video data locally. This means that security systems based on these cameras will work even if there is no internet connection. However, you will not be able to view the live video.